The best Portuguese souvenirs
Packing and wondering what to buy in Portugal? Well, spare some space for a few awesome souvenirs.
Typical ceramic tiles
One of the most common choices is the blue and white ceramic tiles, called azulejos. This souvenir is so traditional because many famous buildings' façades are decorated with it. Besides their beauty, these tile panels tell stories about Portuguese religion, history, and culture.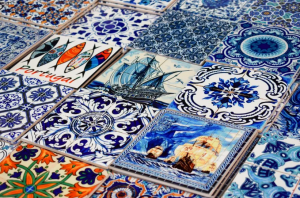 The rooster statue
Barcelos Rooster is a symbol of Portugal and you'll see that right away. You can buy this Portuguese souvenir in many forms, though the ceramic colorfully hand-painted form is the most traditional one. A popular folktale says this rooter symbolizes the Portuguese love for life.
Cork Bags and other goods
Portugal is one of the largest producers of cork in the world. Cork trees mainly growing in the Algarve and Alentejo region make much more than sealing wine bottles. Cork is used for flooring, stylish walls, and for many interiors, architecture, and design projects. But, there are also many goods that come from this material, such as bags, wallets, hats, footwear, and many others.
Gold, silver, and filigree jewelry
Filigree is one of the oldest jewelry techniques, from the beginning of the 16th century. A truly authentic souvenir would be with the design of The Heart of Viana, a traditional form Minho region that represents life, love, and friendship.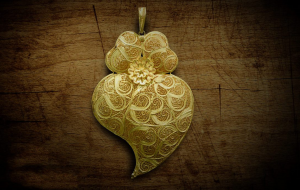 Ceramic dishes and mugs
Food is a big deal in our culture. It isn't by chance that Portugal's growing popularity as a tourist destination is also related to gastronomic matters. Given this importance, ceramics makes part of a table that we are proud to invite everyone. Pottery is also a practice of Portuguese culture for centuries, especially in regions such as Alentejo or Coimbra, which also have museums for that. Some of the finest ceramic houses are Vista Alegre and Bordallo Pinheiro.
Typical drinks: Port Wine, Moscatel de Setúbal, or the famous Ginjinha
Port wine is worldwide known and produced in Douro Valley, up to the north of Portugal. A sweet and fortified wine, typically red, but there's also the white, both are delicious and exquisite gifts. Ginjinha is like a cherry liqueur perfect for an after-meal drink. The young and old drink it alike, at home on the streets, or at a nightclub. It can be bought in small or larger bottles all over Lisbon shops. In some places, you can also drink it in chocolate cups. Sounds right, hum?
Portuguese Moscatel comes from Setúbal the next south region after Lisbon, right from the grapes of Arrábida Hills. It is flavorful and a good choice for a gift for wine loves. Some known wineries are José Maria da Fonseca and Bacalhôa.
Portuguese sweets
Pastel de Belém or Pastel de nata are a must! You can easily buy them around all over Portugal, though for the best ones you should try are Pastéis Belém next to Mosteiro dos Jerónimos and Manteigaria at Time Out Market.
There are also the Ovos Moles which are a conventual pastry with a delicate wafer filled with a smooth custard of egg cream and sugar. These are typical of the Aveiro region and you can buy them at Confeitaria Peixinho in Aveiro but in Lisbon as well.
Canned Sardines
This may seem, at first, an odd choice but it is indeed one of the most traditional and iconic dishes in Portugal. Especially during the Santo António Festival happening in June in Lisbon, people all over the city enjoy these grilled sardines in the streets., having a beer and fun! So this is also a very iconic souvenir.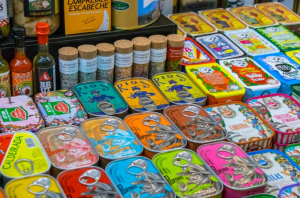 Olive Oil
Portugal has one of the best worldwide olive oil, that's why is also one of the major producers. Besides, Portuguese gastronomy wouldn't be the same without it, is also one of the most exported products in the country.
A book from Livraria Bertrand
One of the best places to buy books in Lisbon is Livraria Bertrand, a historical bookstore from 1732, located at Rua Garret, in the Chiado district. You can choose Fernando Pessoa poetry as a gift, this was one of the most important writers of Portuguese history.
Where can you buy some of these?
Here's a list of some Portuguese typical stores:
Ourivesaria Aliança, on Rua Garrett 50