Monsanto, a tiny enchanted village in Portugal
Monsanto is a village in the municipality of Idanha-a-Nova, District of Castelo Branco, near the Spanish border. Monsanto is also near the highest mountain of mainland Portugal, Serra da Estrela – a protected parkland including towns such as Seia, Covilhã, Manteigas, or Guarda.
Typical, picturesque, Monsanto is frequently called the "most Portuguese village of Portugal", especially because of its medieval special character. Not that Portuguese traditional houses are frequently sandwiched between gigantic boulders.
This village has a surprise around every corner. Houses built within huge boulders, and narrow streets up to the hilltop will take you to the fortress. Its privileged location, high up in the valley, made it once a great defense against the sieges.
Today, Monsanto is listed as one of the twelve historical villages of Portugal.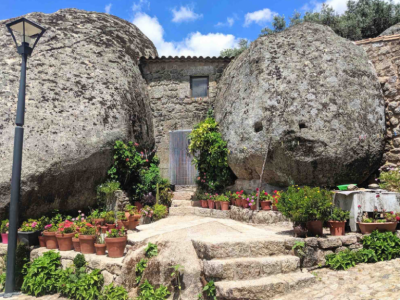 But, what's there to see in Monsanto?
You can choose a half-day or even a whole day trip, so you can explore the cobble streets and wonderful rock houses, some of them can actually look like they were built as one – the rocks and the houses.
Village hikes & landscape overlooking the countryside
Crossing all the granite-paved streets and hobbit-sized houses, walking trails from the bottom of the village to the hilltop, are always a good idea.
There are plenty of signs along the way to guide you through the most beautiful sights.
Along the way, you'll see how Portuguese people who live here adapted their lifestyle by building homes under and between massive rocks. Something that you'll find somehow funny, fascinating, and curious, all at the same time.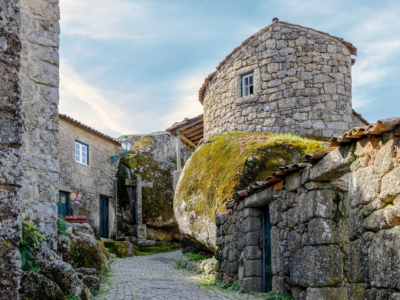 Visit the Monsanto Castel
An impressive fortress at the highest point of the village, with breathtaking views over miles and miles away.
Typical Portuguese cuisine at its higher quality and tradition
There are plenty of restaurants, and you'll not get into trouble choosing the wrong one. These remote locations are commonly known for their super traditional and tasty Portuguese dishes.
How to get to Monsanto?
This one totally is on us!
This remote location is somehow off the regular Portuguese routes, meaning that public transportation options are limited. Regarding this, it might be a good choice to choose a private tour. Within a 3 hours distance from Lisbon, with Amiroad Luxury Transports, you can enjoy pleasant and safe travel, without any route concerns.
Also, our Luxury fleet and driver will provide you with an experience to remember.