Lisbon nightlife and its hidden gems
When talking about Lisbon nightlife you'll always find a lot to discover in the Bairro Alto district. This is where most of the parties begin. In Bairro Alto, you can start with a typical restaurant and right next door you can have a drink. After that, you might be led to go to Cais do Sodré area, Santos, or Santa Apolónia. Most of the Lisbon nightlife great locations are right next to River Tagus, though we'll share some hidden gems as well.
Bairro Alto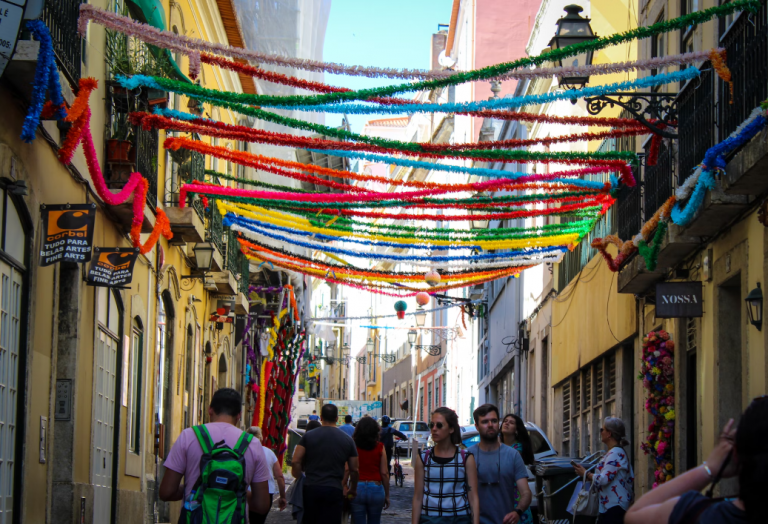 It is also a cultural hub with a lot of galleries, libraries, and different exhibitions, such as live concerts or DJ sets. Highlights go to:
Climb a bit, and you'll find Principe Real neighborhood
As in Bairro Alto, in Principe Real you will also find a lot of restaurants and bars, but with a little bit more of a fancy style.
Pavilhão Chinês a kitsch classic mood;
Gin lovers bar restaurant inside of a classic palace in the heart of Principe real;
Red frog speakeasy when looking for a quiet and fancy mood with great cocktails;
The Insólito has not only a restaurant, a bar, a gallery, and events;
And also enjoy the Principe Real esplanades in the main garden, right in the neighborhood center.
Cais do Sodré and the pink street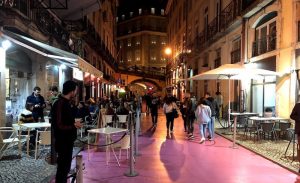 Cais do Sodré Square is a boom nightlife area, here you'll find more than 5 discos and bars with all types of vibes, here's some of them:
Some other places you should not miss while discovering Lisbon nightlife:
Lux Frágil nightclub, the creme de la creme in Lisbon nightlife;
PARK a pleasant rooftop overlooking the city;
Santo Amaro Docks, in the Alcantara district, are massive warehouses converted into bars;
Kremlin is a more commercial approach in the Lisbon scene;
Urban beach for a more teenage vibe;
Rua da Bica, with a lot of small bars in the most renowned tram street in Lisbon
Plateau for those who like the eighties;
A Primorosa Alvalade is a place that will take you right to the 70s. Have fun!
We all know that it's hard to get out, especially when you are having fun, and don't have a drink, or two, or three. Keep it safe and hire a private driver to take you all around.