Hard to choose, but here's some of the best cities in Portugal
Visiting Portugal but don't really know where to start? What are then, the best cities in Portugal? From major cities to smaller towns, our country is full of treasures, from historic buildings to natural landscapes. Despite being a small country, you can find the nicest cities near to the seashore or in the deep country, up north in a more traditional and green nature-related vibe, or south to some of the most incredible beaches in the world.
Here's a list of some of the best cities in Portugal and their highlights.
Lisbon, the capital
Lisbon attracts more visitors and attention, it is one of the most popular cities destinations in Europe, and we can easily justify why. It has incredible weather, gorgeous sunshine, and sunrises, and welcoming and warm people, as in any other part of the country, to be fair. But what makes Lisbon so trendy?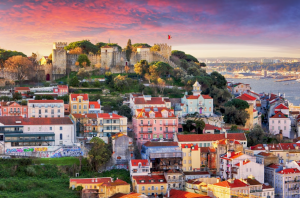 Somehow divided into 3 main areas, the city center which is the most traditional, the new Lisbon in Parque das Nações district is the modern side, and finally, the historical part, filled with monuments and history in Belém area. Though each one of these has a bit of the other, monuments, museums and cultural activities, impressive architecture, delicious food and of course, its riverside view. 
Lisbon is also known for its vibe, the nightlife, renowned restaurants, cinemas, theatres, and events happening all over the city.
Some Lisbon sights and activities: explore Alfama, Chiado, Baixa and São Bento, neighborhoods. Visit the Jerónimos Monastery and Belém Tower, Basílica da Estrela. Go to the Timeout Food Market, Ocenário Aquarium, a theatre play or fado show. Visit Museums, such as MAAT, Orient Museum or Azulejo Musuem.
Discover some of ours private tours in Lisbon
Porto, the city of charm
Certainly one of the best cities in Portugal, Porto has a unique charm. Not only because of its picturesque ambient and architecture, but for the people, the food, and the cultural vibe. Porto is worldly known for its wineries and Porto Wine, but it is much more than that. It has constantly super interesting exhibitions, concerts, and events.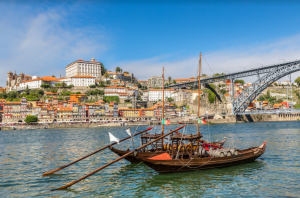 Set along the famous Douro river, Porto esplanades are a perfect way to spend a relaxing afternoon drinking port wine. Explore the historic streets, visit incredible monuments and churches with their frequent tiled panels.
Discover the architecture: from the iron bridge D. Luís (Eiffel School), Casa da Música (Rem Koolhaas), or Serralves Foundation Museum (Siza Vieira), and many more renowned architects.
Go for a wine tasting program, it's mandatory.
Some Porto sights and activities: São Bento Train Station, Clérigos Tower, Serralves Foundation, Stock Exchange Palace, Lello Bookstore, Port Wine House, explore the riverfront area, and take a boat ride in Douro River.
Amiroad private tours in Porto
Sintra, the city of romance
If we had to choose two words to define Sintra it would be: magical and romantic. Sintra city near Lisbon (20km away) used, back in the days, to host some of the most notable royal events. Today remain the beautiful palaces and gardens from that time.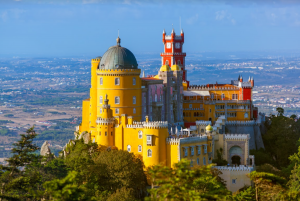 You can easily feel a fairy tale while in one of these palaces and forests. The peculiar and colorful Pena Palace is one of Sintra's main attractions, a huge palace in an absolutely overwhelming park with fountains and lakes.  Though, the elegance and stunning architecture of Monserrat are also enchanting – this one is a hidden gem of Sintra.
Sintra is also rich in gardens and parks, many of them part of palaces complexes, the special one here can easily be Regaleira – a must-see as well. There's another thing you cannot miss while in Sintra, the travesseiros or queijadas from the historic Piriquita pastry.
Sintra sights and activities: Pena Palace and Pena Park, Quinta da Regaleira, Monserrat Palace, historic city center, National Palace of Sintra, Seteais Palace, and the Moorish Castle. Go for a sweet at Piriquita pastry.
Amiroad luxury private tours in Sintra
The full list of the best cities in Portugal
Including:
Óbidos
Évora
Coimbra
Batalha
Fátima
Alcobaça
And some more.